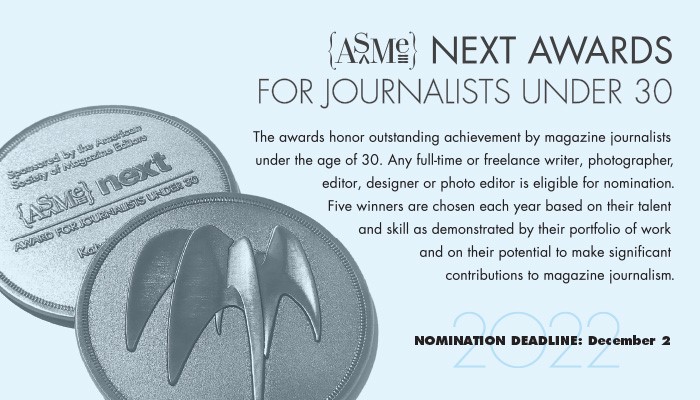 Sponsored by the American Society of Magazine Editors, the ASME NEXT Awards were established in 2016 to support the development of print and digital media. The awards honor outstanding achievement by magazine journalists under the age of 30. Any full-time or freelance writer, photographer, editor, designer or photo editor is eligible for nomination. Candidates must be nominated or endorsed by a member of ASME and must be employed by or associated with a magazine or website edited by an ASME member. Eligible candidates must be under the age of 30 on January 1, 2022.
Five winners are chosen each year based on their talent and skill as demonstrated by their portfolio of work and on their potential to make significant contributions to magazine journalism. Award winners receive a medal bearing the likeness of "Elephant Walking," the symbol of the National Magazine Awards, and will be honored at the annual presentation of the awards on Tuesday, April 5, 2022, at Brooklyn Steel, in Williamsburg, New York.
For more information, or to submit an entry, visit asmeawards.org.